After two days of silence, Do Kwon, the founder of Terra Luna, took to Twitter to respond to various questions and accusations from the community, discussing multiple issues regarding his proposal to fork the Luna network and clarifying his whereabouts.
Terra Luna Revival Plan 2
Luna's second proposed revival plan looks to fork the chain and create a new blockchain without the algorithmic stablecoin. The old chain will be called Luna Classic (LUNC), while the new chain will be called Terra (LUNA).
The new proposal is officially called the Terra Builders Alliance: Terra Rebirth Network and can be found on station.terra.money.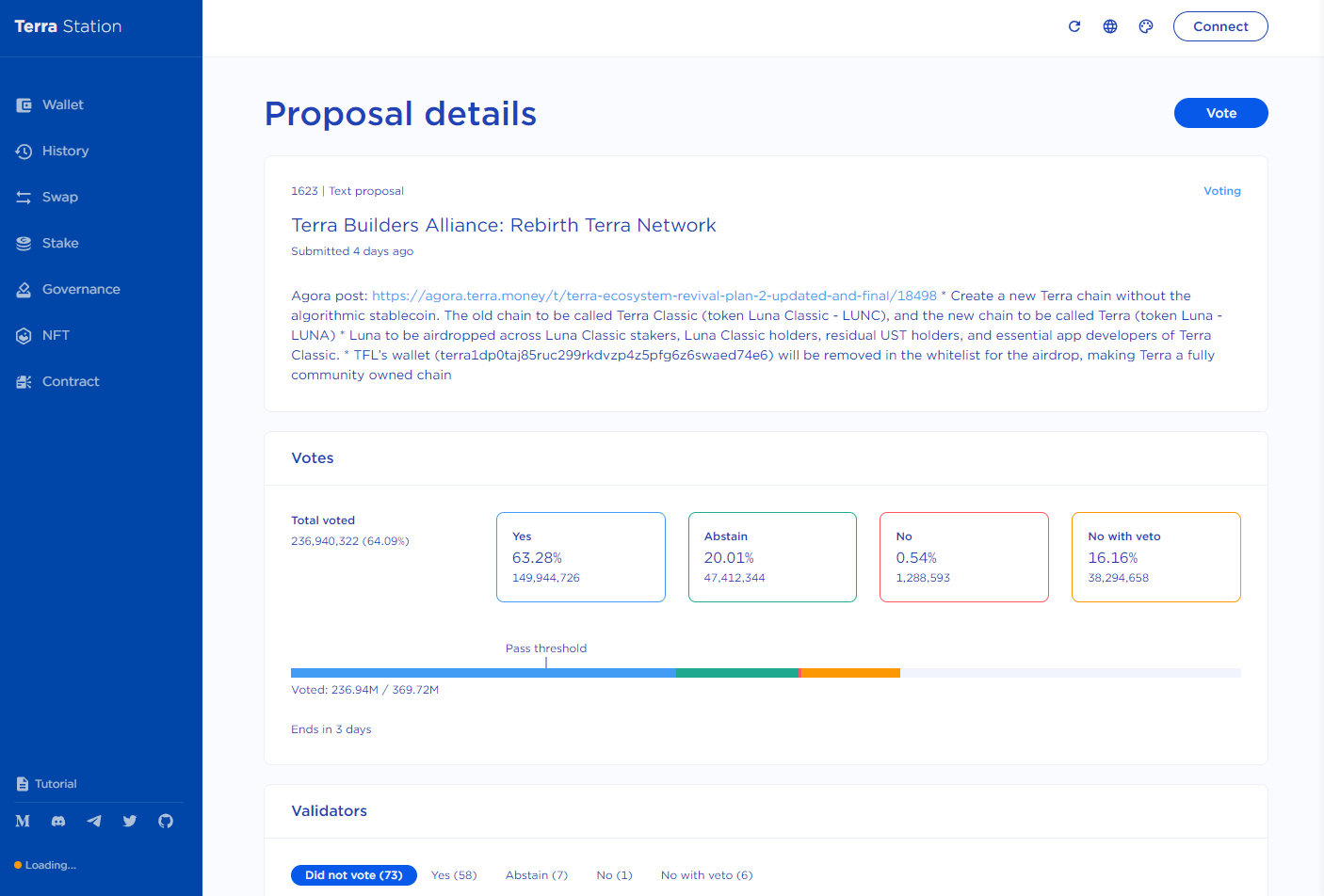 At the time of writing, over 63.28% have voted to pass the proposal, with 20.01% voting to abstain, 0.54% voting no, and 16.16% voting No with a veto.
The proposal ends in 3 days with roughly 133 million votes remaining. At this point, chances are that the proposal will be approved, and Terra Luna will move forward with the network fork and upgrade.
Do Kwon Started Answering Questions
Twitter has been full of outrage and conspiracies regarding the Terra Luna situation, and rightfully so, as the crisis impacted a wide range of investors. One of the trending hashtags on Twitter this weekend was #lunascam, accusing everyone from Do Kwon to Changpeng Zhao (Binance CEO) of having inside knowledge of the crash and profiting from it.
Changpeng Zhao addressed various questions from the community in his Reddit AMA this weekendreceiving over 1600 comments within hours.
In contrast, Do Kwon took to Twitter and posted roughly two dozen tweets clarifying questions from the community and speaking on the new revival plan for Terra.
One question regarding the new fork was whether UST and LUNA holders on decentralized exchanges on the Cosmos (IBC) network will still receive the Airdrop. Do Kwon responded positively that all IBC DEX assets would be indexed.
Yes – IBC transferred assets will be indexed

cc @gadikian

— Do Kwon (@stablekwon) May 21, 2022
The assets on the IBC DEXs will be considered in the Airdrop, and any holders will receive their share of the new tokens.
Another common question for Do Kwon from the community was in regards to the tax situation. According to several reports, Do Kwon supposedly owes millions of dollars to Korean authorities. However, Do Kwon clarified that he has no outstanding tax liabilities in Korea. According to Kwon, he did pay his share and has been in Singapore since December.
In addition, regarding accusations of shorting UST or LUNA during the collapse, Do Kwon mentioned that he has never shorted a cryptocurrency in his life, let alone LUNA or UST.
I've never shorted a cryptocurrency in my life, let alone luna and ust

— Do Kwon (@stablekwon) May 21, 2022
Final Thoughts
Terra Luna has been performing quite well today, bottoming out at $0.0001112 and rising by over 16% in the past 24 hours. The recent price hike is most likely due to Do Kwon's statements on Twitter and the upcoming approval of the revival proposal.
On the other hand, UST continues its slide downwards, currently trading at $0.054, down over 13% in the past 24 hours. Since the new proposal abandons the stablecoin, we can only assume that UST will eventually end up at $0. Users are still holding the token primarily to claim any potential airdrops or rewards from the new chain.
The Terra Luna situation is undoubtedly tragic in many ways, but it is a learning lesson when it comes to cryptocurrency and investing. Do Kwon and the crypto community is doing everything to provide hope for traders and investors. If the community sticks together, nothing stops LUNA from reaching multi-billion dollar valuations once again.
Now could be an excellent time to purchase LUNA if you're looking to buy the dip; however, keep in mind that LUNA classic will most likely struggle to survive once the new chain rolls out.
Disclosure: This is not trading or investment advice. Always do your research before buying any cryptocurrency.
---
Also Read:
Top 3 Metaverse Crypto Coins Below $0.5 to Watch in May 2022
Follow us on Twitter @thevrsoldier to stay updated with the latest Metaverse news!
Image Source: katisa/123RF