The Bureau of Meteorology (BOM) has confirmed that a host of rainfall records have been smashed across NSW and Queensland so far this year, and warned that heavy rains could continue for months as La Niña conditions could persist for a rare third straight year.
BOM's Special Climate Statement 76 reveals the southeast Queensland flood peaks of February and March haven't been seen since 1893. Whereas in NSW, records tumbled at Wilsons River in Lismore, peaking at a record high 14.4 meters on February 28.
More than 50 sites in the two states have registered more than one meter of rain in a single week during 2022.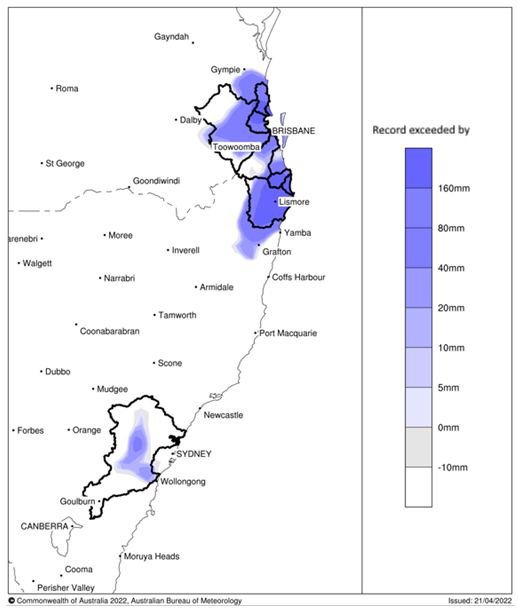 A separate BOM report warned that the breakdown of the La Niña weather pattern in the Pacific has stalled, meaning eastern Australia faces more torrential rain in the months to come:
The Indian Ocean Dipole (IOD) is currently neutral. However, the IOD index has become more negative over the past fortnight… A negative IOD increases the chances of above average winter–spring rainfall for much of Australia. It also increases the chances of warmer days and nights for northern Australia…

The 2021-22 La Niña event continues in the tropical Pacific. Some indicators of La Niña, including tropical Pacific sea surface temperatures and equatorial cloudiness near the Date Line, have seen little change over the past fortnight…

Most climate models surveyed by the Bureau indicate a return to neutral ENSO during the southern hemisphere winter. Two of the seven models maintain La Niña conditions through the southern winter. Even if La Niña eases, the forecast sea surface temperature pattern in the tropical Pacific still favors average to above average winter rainfall for eastern Australia…
BOM also noted that climate change is contributing to the extreme weather conditions:
Climate change continues to influence Australian and global climate. Australia's climate has warmed by around 1.47 °C for the 1910–2020 period. Southern Australia has seen a reduction of 10–20% in cool season (April–October) rainfall in recent decades. There has also been a trend towards a greater proportion of rainfall from high intensity short duration rainfall events, especially across northern Australia.
While NSW and Queensland are being drenched, us Melburnians have just enjoyed the best Summer in a decade and a pleasant Spring.
For once, my wife hasn't had to endure me complaining about Melbourne's crappy weather!