Submit a question of your very own here
This week's mailbag is fatter than a golf course goose. We have questions about another "pop-up" disturbance in Champaign, Quik Trip's plans in Champaign, pieces of Memorial Stadium turf and the State Farm Center basketball floor for sale, delays for a new hotel in Rantoul and Stevie Jay Broadcasting moves to Philo.
Also, Carle's facility fee, the uncertain future of the old Round Barn Restaurant, panhandling, Champaign's first airport and plans progress on widening a portion of Prospect Avenue.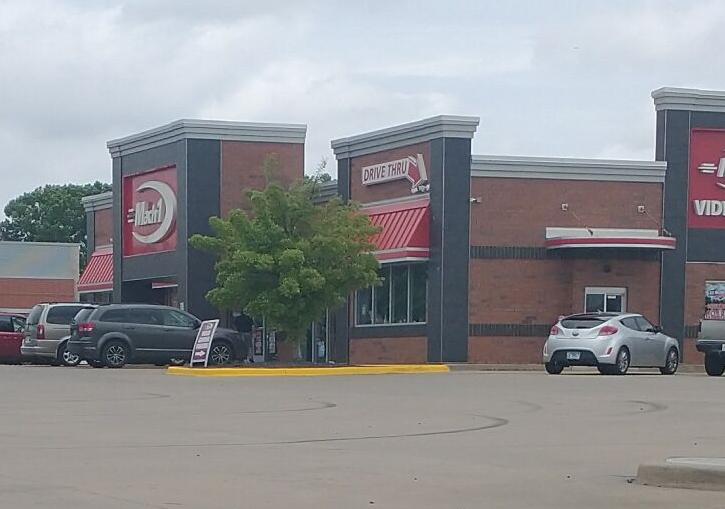 Incident at Mach 1
"In The News-Gazette story from (last) weekend, it says there were 40 cars blocking gas pumps at Mach 1 in the middle of the night. Can you explain what might this be about? Is it a problem?"
We got this statement from Champaign Police command about what appears to have been a "pop-up party" similar to the ones that have plagued downtown Champaign:
"Regarding this incident, officers were dispatched to the 900-block of W. Bloomington Road in the early hours of Sunday, May 22 for reports of two subjects brandishing weapons in the parking lot of a gas station. In describing the scene, reporting persons also indicated that a number of vehicles were inappropriately occupying the parking lot. Responding officers saw two individuals matching the description of the initial report leaving the scene in a black SUV and followed the vehicle. After witnessing a traffic violation, officers stopped the SUV and located two handguns with extended magazines in the vehicle, along with open alcohol containers.
"According to officers, this gathering appears to be a loosely organized gathering where several individuals found an open area, then parked there and held an impromptu party. Because such events often take place with no formal notice, they can be challenging to locate until they are underway. The Champaign Police Department continues to work proactively to address these gatherings as they occur, as such gatherings can have a direct, negative impact on surrounding businesses and residences. Often, they come with concerns related to open alcohol and disruptive noise, and similar gatherings have been linked to weapons offenses, including shots fired incidents. The Champaign Police Department encourages anyone being disrupted by such an event to immediately contact our non-emergency dispatch at 217-333-8911."
The department is unable to verify if there actually were 40 cars at the Mach 1 but "it was enough to be disruptive and warrant a call reporting the gathering," said police spokesman Joe Lamberson.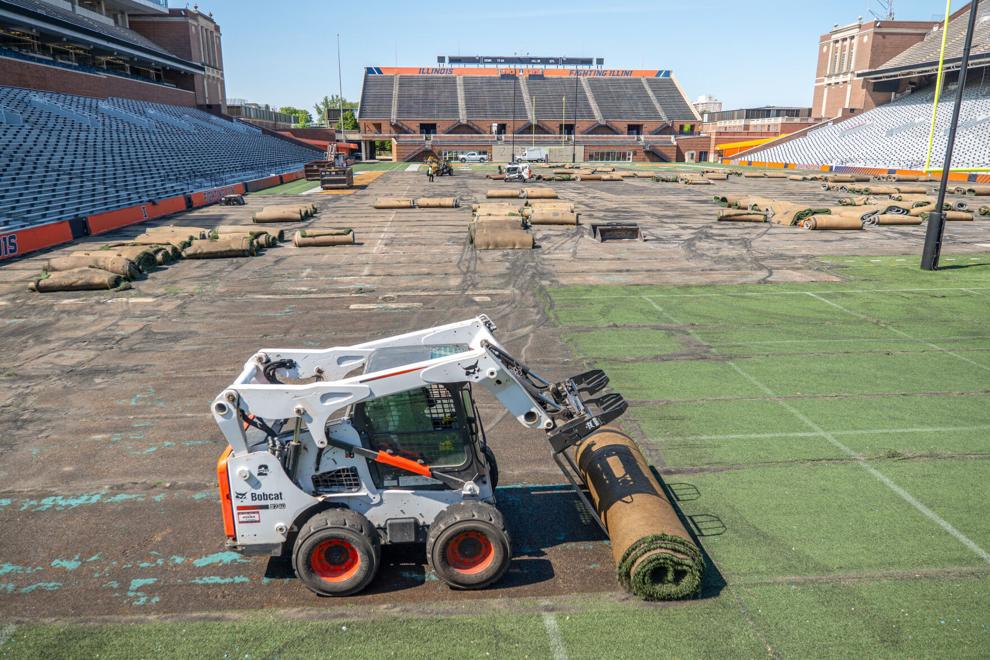 Memorial Stadium turf sale?
"Is the University of Illinois selling pieces of the turf they pulled up at Memorial Stadium this week?"
"We are still looking at options for possibly selling commemorative pieces of the Memorial Stadium playing surface," said Illinois Associate Athletic Director Kent Brown. "We'll certainly share more information once it becomes available. The basketball court at State Farm Center is also being replaced in September, and we are definitely looking at options to make pieces of the floor available for sale to fans."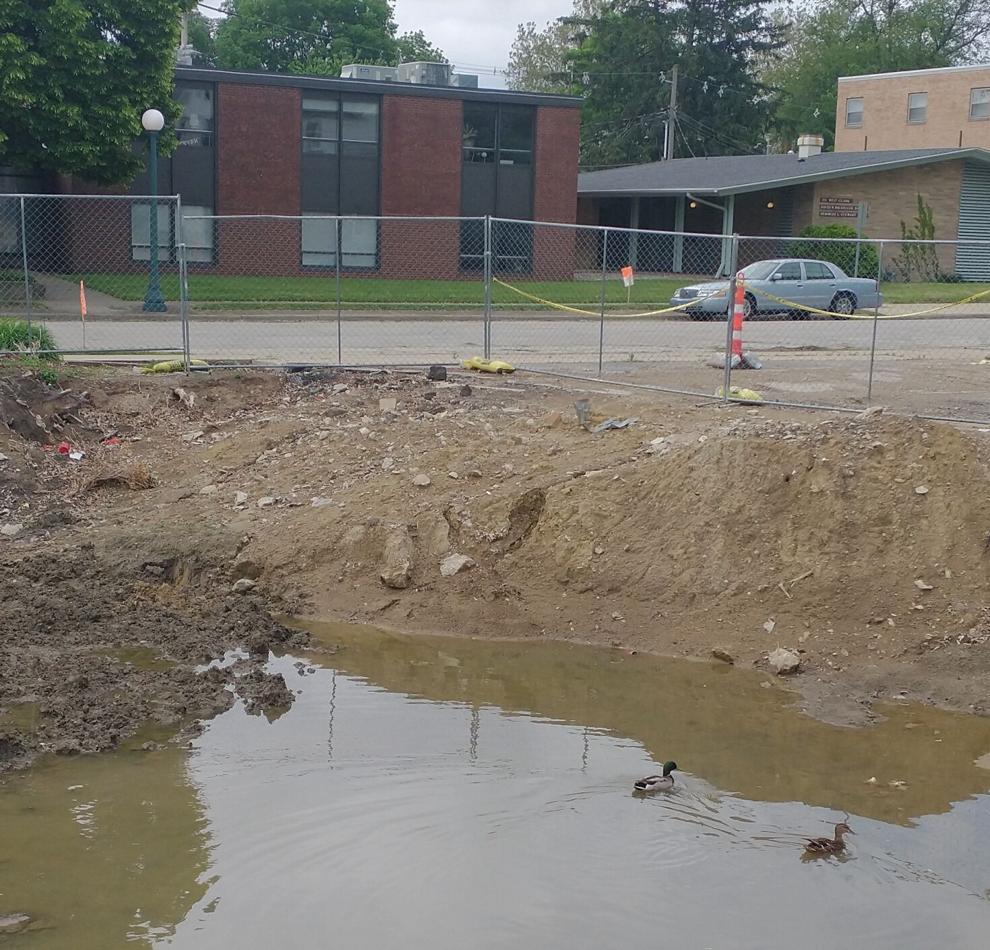 Former bank site
"Geese and mosquitoes hanging out in the huge hole at corner of State and Clark Streets in Champaign. Any plans for this corner?"
The owner of the property — which most recently was a  Regions Bank location — is waiting for better weather conditions to allow for the delivery and compaction of soil during backfill, said Randy Smith, Champaign's building safety supervisor.
"We have been in contact with the owner and they expect to resume yet this week. They have been onsite dewatering the excavation in preparation," Smith said.
Quik Trip still coming?
"I work at Battery Specialist + Golf Cars located at 133 W. Kenyon Road in Champaign. Sometime earlier this year, the Quik Trip company applied for their building permit for the property next door to us where (the Holiday Inn) used to sit. We are a little anxious to finally get some neighbors next to us and hopefully beautify more of this area down here. Can you tell me when they might be set to break ground or where they are at in their proceedings?"
Quik Trip did not get back to us, but Bruce Knight, Champaign's planning & development director, said "my understanding is that they are continuing to work to finalize their plans and get all of the approvals they need. I don't have any information on when they might break ground."
Several building permits for the project, including a Quik Trip store, are under review by Champaign's building services department.
Prospect Avenue widening
"What is the status of the widening of Prospect Avenue in Champaign?"
It's in the early stages of development, said Kensil Garnett, the Region 3 engineer for the Illinois Department of Transportation.
"Clark Dietz is the prime consultant for this project and they are using Fehr-Graham & Associates and The Roderick Group, Inc. as subconsultants. The phase I engineering (study) for this project is underway," said Garnett. "The Intersection Design Studies are advancing. The preliminary typical sections for the project have been developed. We are anticipating that a public information meeting will be held this summer."
IDOT's multi-year program lists the project as: "Resurfacing and widening on 1.6 miles, intersection improvement, traffic signal modernization, land acquisition and utility adjustments are programmed during FY 2023-2027 at a cost of $16 million."
Stevie Jay Broadcasting
"Did Steve Jay move out of Urbana? The building looks to have been emptied."
Stevie Jay Broadcasting left Urbana last weekend and has moved to Philo, the hometown of station manager Stevie Jay Khachaturian.
"We're in Philo, the Center of the Universe, and I'm about 38 feet from a ribeye steak sandwich at the Philo Tavern," said the always enthusiastic Khachaturian.
The station's former headquarters at 2702 Boulder Drive in Urbana is listed as available by the Atkins Group.
Khachaturian's four stations — WQQB-FM, WGKC-FM, WSJK-FM and WJEK-FM — are broadcasting out of the Versabar building in Philo, at the corner of Washington and Harrison streets, no more than 300 yards from his boyhood home.
"We have to be the smallest community with the most radio stations in the world," said Khachaturian.
"The mayor (Larry Franks) was on the air welcoming me and the village board sent me flowers from the Blossom Basket! It's a real throwback to local radio and it's going to be terrifically fun."
He said the studios for US 105, a country music station that also carries Cubs games, are inside what is known as as the Catholic Bank Vault.
"It was around 1913. My information says there were mostly Protestants on the Catholic Bank Board," Khachaturian said.
New Rantoul hotel
"What is the status of the new hotel to open in Rantoul?"
Horve Hospitality Management Inc. of Forsyth said last year it would build an 80-bed Hampton Inn by Hilton with eight suites near the Rantoul Family Sports Complex on the village's west side.
"The development of the Hampton Inn has been delayed by the significant increase in construction material costs," said Scott Eisenhauer, Rantoul's village administrator. "While unfortunate, we all recognize this hotel was being built based on certain projections in costs, and as those expenses escalated, it diminishes the profitability of the business.
"Our hopes are the market will re-adjust quickly bringing pricing of materials down a bit and construction of this project, and a number of other projects, can begin."
Carle facility fee
"I have had friends experience a building fee added to their Carle Hospital bill. It varies from $300 to $750, but is not covered by insurance. How and when are building fees added to a patient's care? Why is there a discrepancy? To whom should a person about to have a procedure ask about the building fee so there is not a surprise bill in addition to their co-pay."
"Facility fees are those services charged for by the hospital. Professional fees are those charged for by physicians and other professional providers," explained Carle spokeswoman Brittany Simon. "This is referred to as Provider Based Billing, which is an acceptable billing practice used by many healthcare systems.
"Carle uses Provider Based Billing to help us continue to meet the healthcare needs of the communities we serve well into the future. What may appear to be a duplicate charge on your statement is a separation of the facility fee and the professional fee.
"We always encourage patients to contact their respective insurance companies to verify coverage before their scheduled visits and/or procedures. For more information about understanding your bill as well as the Carle Financial Assistance Program, please visit Carle.org or contact call Carle Patient Financial Services at (888) 712-2753."
Flatville Road
"Can you see how many times in the last 10 years that Champaign County has resurfaced the Flatville slab going east from Thomasboro and then the slab going west to Mattis? I feel like it get done every couple of years."
Champaign County Engineer Jeff Blue said the road was resurfaced about 10 years ago and has been seal coated once since.
Post office box inflation
"I was shocked to see that my post office box fee has jumped up 100 percent. Last year I paid $116 for the year, this year it is $232. Does it have to do with the location: 202 S. Broadway Ave., Urbana?"
Prices for post office boxes increased nationwide, said Sharrie Johnson, a spokeswoman for the U.S. Postal Service in Bedford Park.
"As part of our Delivering for America 10-year plan to achieve financial sustainability and service excellence, the Postal Service adjusted market dominant prices for Forever stamps and other products and services, including P.O. boxes," she said. "Even with the increases, USPS prices remain among the world's most affordable."
Champaign's first airport
"What was the name of airport on North Mattis as you pass over Interstate 74 in Champaign?"
That was first known as Champaign Municipal Airport when it opened in 1928. It was a dream of the Champaign Chamber of Commerce to operate an airport that could provide an aviation connection to Chicago and other cities.
There actually were regular flights between Atlanta and Chicago, by way of Champaign, Terre Haute, Evansville, Nashville and Chattanooga, on Interstate Airlines Inc. for about six weeks. Then the flights ended.
The Great Depression put an end to the thought of Champaign as a great aviation center. By that time only three private planes were kept at the airport, one of them belonging to Champaign merchant Frank Robeson.
In the 1940s and '50s it was known as Taynor-Harris Field because flying instructors Earl Taynor and Ben Harris provided aviation instruction there.
The airport north of Interstate 74 and west of Mattis Avenue closed in 1957.
Mahomet school bond issue
"Do you know how the school bond referendum for Mahomet will read in the June 28 ballot?
Here's the wording of the referendum question, taken from the website of the Champaign County clerk: "Shall the Board of Education of Mahomet-Seymour Community Unit School District Number 3, Champaign and Piatt Counties, Illinois, build and equip a school building to replace the Mahomet-Seymour Junior High School Building on a different site owned by said School District, build and equip a transportation facility to replace the existing transportation facility, build and equip additions to and alter, repair and equip existing school buildings, improve sites and issue bonds of said School District to the amount of $97,900,000 for the purpose of paying the costs thereof?"
Here's where to go to see a list of candidates and referenda.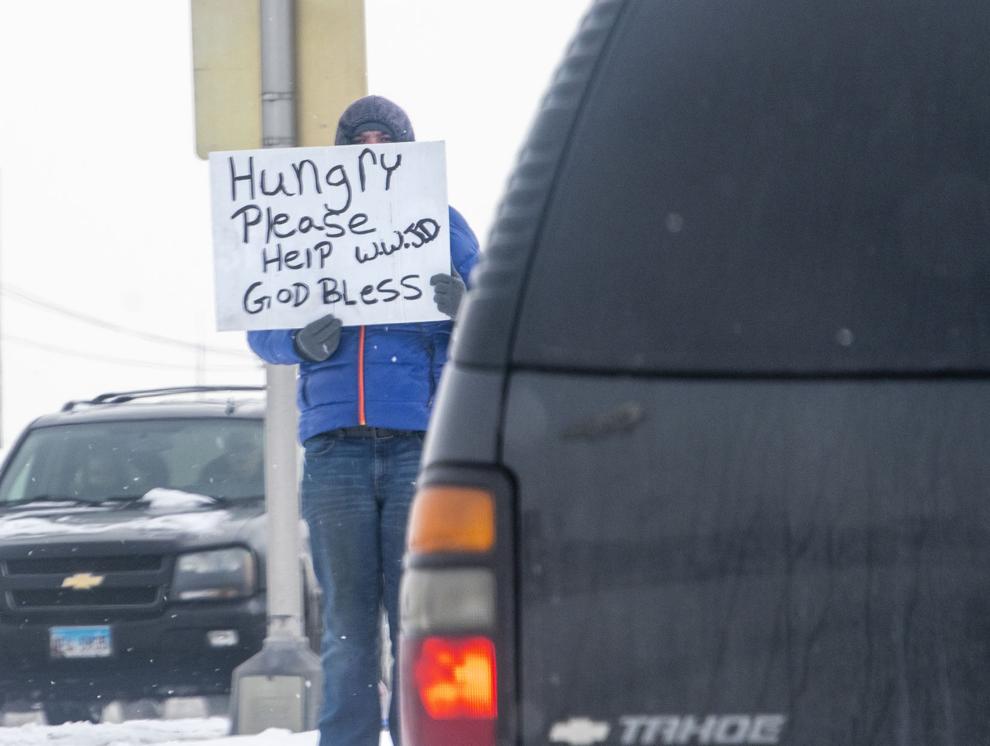 Dangerous panhandling
"Why doesn't the city stop the panhandling on Prospect Avenue, leaving Target, by the highway on the overpass on North Prospect. It's dangerous and distracting."
The Supreme Court and other federal courts have ruled that bans on streetside and roadside panhandling is unconstitutional, a violation of First Amendments rights to free speech.
U.S. District Judge Robert Gettleman, in a case involving two homeless men ticketed for panhandling in Downers Grove, ruled in 2021 that a state law restricting panhandling "is a content-based restriction on the freedom of speech that is not justified by any compelling interest and that the provision violates the First Amendment and is unconstitutional on its face under clearly established law …"
Bradley Avenue & Bluegrass Lane
"A press release on May 19th read 'As part of the city's Bradley Avenue Improvement Project, Cross Construction will close the intersection of Bradley Avenue and Bluegrass Lane to begin reconstruction on Tuesday, May 24, 2022.'
"Will this reconstruction include sidewalk and curb cuts to make crossing Bradley Avenue between Sawgrass and Boulder Ridge subdivisions at Bluegrass easier? Currently a pedestrian must enter a grassy right of way or the roadway before crossing because of where the sidewalk ends. It's common to see pedestrians crossing here — likely Sawgrass residents on their way to or from Sunset Ridge Park, or walkers/joggers from both neighborhoods looking for a change of scenery.'"
Champaign Public Works spokesman Kris Koester said that this year's project on Bradley Avenue includes:
— Resurfacing of the asphalt pavement from Bluegrass Lane to Staley Road.
— Widening and paving of the shoulders on Bradley Avenue from Bluegrass Lane to Staley Road, including marking the shoulders for bike lanes.
— Concrete pavement repairs at the intersection of Bradley Avenue and Bluegrass Lane.
— Curb and gutter modifications to allow for the extension of bike lanes to Duncan Road.
"Sidewalks and other complete street amenities are part of a future project to be identified," said Koester.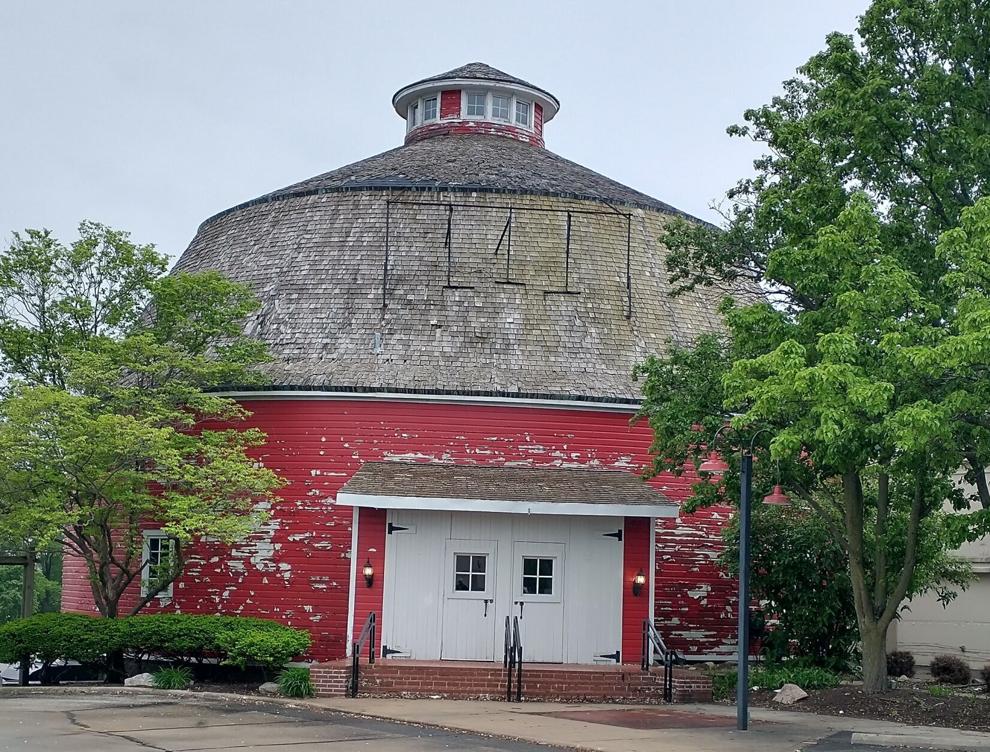 Former Round Barn Restaurant
"What is the history of the Round Barn Restaurant (formerly Famous Dave's BBQ) near Springfield and Mattis in Champaign? It looks like it's falling apart. Does it have a future in our community?"
There's hope that it has a future but for now it's uncertain. We answered this question about a year ago and nothing has changed in that time, said Laura Shapland, manager at Shapland Management in Champaign.
George Shapland (Laura's father) was one of the original developers of the Round Barn area, purchasing the namesake barn in 1964 along with his brother Robert and with Roy Stout.
As we wrote last year, they moved the barn about 100 feet from its original location and developed it into a first-class restaurant that opened in 1969 and lasted more than 20 years near the corner of Mattis and Springfield avenues.
But times have changed.
"We're evaluating what to do with the area in the round bar and how it related to Champaign's plans are for making Springfield Avenue an arterial street back through Neil Street and whether that's going to be a major inlet from west Champaign or not," George Shapland said last summer. "That whole thing includes what happens to Country Fair (Shopping Center). We're trying to evaluate the whole area and make plans for it."
Razing the old barn is a possibility, he said.
"Tearing down is an option," Shapland said, "because of the inefficiency of the building and its age. But it was a very successful operation for a number of years.'
Laura Shapland said this week that "the goal is to get someone in there, preferably another restaurant."
But demolition "has got to be on the table although it's certainly not our first choice."
Local history items
"Who chooses the seemingly random Area History news tidbits on page two? My friend's father has been mentioned a couple of times from 50 years ago and that's fun to see his name in print again. But they really do seem very random."
I'm glad to know you read them. I write them and they are chosen based on their significance at that time (often the top story of the day) and their relevance and interest 50, 100 or 15 years later.
Followup on weedy railroad property
The city of Urbana followed up on last week's complaint about weeds and debris that had collected along an abandoned railroad right of way at Washington Street in east Urbana.
"This was the first complaint the city received this year regarding this property, however in the past our office has received the occasional complaint," said Nick Hanson, a building official with the city. "According to county records, the railroad spur is still owned by Norfolk & Western Railroad. A Code Compliance Inspector visited this property and had the area immediately adjacent to the sidewalk mowed down to minimize the potential of poison ivy exposure. A follow-up notice of violation has been sent to the railroad of the violations observed and the railroad has been given 14 days to address the issues, otherwise the city of Urbana will return and have all the violations abated.
"Thanks to your reader for bringing this to our attention. Citizens can always file a complaint with the city regarding concerns like these online at: www.citizenserve.com/urbanaillinois."
.