Half-time! United Arab Emirates 0-0 Australia
45 mins As the clock ticks down the local crowd get vocal, clapping and chanting as another Australian foray is redirected by their opponents. There will be no stoppage-time this half.
44 mins Canedo has materialized on the left flank, where he is practically toying with two green and gold shirts. Ultimately, though, the balls goes out of play.
42 mins Behich vies for the ball with Canedo and looks to have had the last touch before it bobbles over the byline but Australia are given the corner nonetheless. It comes to nothing. The UAE have a throw-in now at the touchline but it is duly taken care of by Behich, who backpasses to Ryan.
40 mins A (very) long ball from Australia's defense find Behich right up at the far corner. What is he doing all the way up there, then? That's the furthest forward we've seen either of the full-backs this match. Behich flicks the ball back and inside to Jackson Irvine but no luck this time.
38 mins Mooy is in a tangle on the ground with Ramadan and the pair get back on their feet just in time for Mat Leckie to remonstrate with the referee about who should be given possession after the ball ricochets out. It will go to the UAE.
36 mins Goodwin has the ball at his feet now and the cross is good. Oh! A goal? Nope, it shaves the top of Rowles's head. In an instant the UAE have another shot on target from Al-Maazmi, from a tight angle for a second time. He whizzed past Atkinson again and forced Mat Ryan into a reflex save.
33 mins Mabkhout, meanwhile, has been waiting patiently for his moment. The assumption is that it will come (he has 80 international goals). Hrustic releases Leckie and there's an opening but the UAE get back in shape too quickly. In the process, Behich looks to have fouled a player but it's Mabkhout who is shown a yellow card for a subsequent challenge on Goodwin.
30 mins The Socceroos' desire not to concede early has been clear in these opening 30 minutes. They have made some headway but, true to form, are not exactly penetrating in a manner which will elicit a goal. Caution reigns supreme here, and even still there have been some testy moments.
28 mins Rowles goes in for what looks like a good challenge on Canedo. He gets the ball on first contact but then appears to clean up the back of his opponent's leg and does not look happy at all as the referee awards the UAE a free-kick. Its taker, Ramadan, is defeated and whips it well over the bar.
25 mins Boyle is quick, he is thrifty, he pings a one-touch pass to the left for Goodwin. The Adelaide United man has all the time in the world but rushes his cross. Ie, he aims to send it to seemingly nobody in particular, and to nobody it arrive.
23 mins This is becoming rather end to end all of a sudden as Australia make another menacing entrance into the penalty box. There is quite a bit of space in their midfield, though.
21 mins Before you can blink the UAE are back on the attack, breaking Atkinson's right full-back position (again) and crossing into the box. A goal-mouth scramble of sorts ensues before the ball pops back out. Their naturalized Brazilian forward, Caio Canedo, commits a foul in the process.
18 mins Just as I've typed this Ali Salmeen attempts an audacious through ball. Abdullah Ramadan tries to pick it up but fouls Boyle instead. The ball flies straight up the other end, where Hrustic delivers Australia's first real chance into the penalty. It sails towards the back post but is a little high for Goodwin.
16 mins All in all the first 15 minutes have played out in the expected manner. The UAE are set up in two defensive and are sitting back off the ball, inviting the Socceroos to try and break them down.
14 mins Behich to Goodwin to Mooy, then retreat. Australia's full-backs are staying quite deep, presumably to avoid leaving themselves open in the way they did against Jordan.
12 mins Australia have had the share of possession and territory here but their opponents are always dangerous on the counter. The former try a diagonal long ball which comes to nothing and possession is back with the UAE.
10 mins Counter-attack! The UAE race off in transition and Australia's defense is slow on the uptake as Harib Al-Maazmi dashes down the left before a late intervention averts the danger.
7 mins Leckie tees up Hrustic, the Eintracht Frankfurt man who recently helped the German club to the Europa League. No luck this time but they keep at it in the UAE's half until Leckie clips the heels of Abdulla Hamad.
6 mins The UAE are getting numbers behind the ball as Australia apply the pressure. Boyle is dribbling and weaving through bodies and displaying positive signs.
4 mins Craig Goodwin and Mooy are standing over the ball for the free-kick before the former does the honours. It is punched away by Khalid Eisa with little fuss.
2 mins The time for introspection is over, for the action has started in this seventh meeting with the UAE. Atkinson has played his part early to stop an early Emirati raid before the flag goes up for offside. And Australia have their first set piece after an unfortunate challenge by Khalifa Al Hammadi.
Having said that about that Asian Cup quarter, that was a tight match. Expect this to be the same. I can see extra-time. The players are walking out of the tunnel at the air-conditioned Al Rayyan Stadium for the national anthems, and it's worth taking a moment to think about the human rights controversy surrounding Qatar's hosting of this World Cup. This piece from Barney Ronay is excellent.
If you are catching up on what has happened for the Socceroos on the road to Qatar, this wee preview should get you up to speed:
And the UAE's XI is here, with Ali Mabkhout leading the line. For context, Mabkhout scored the only goal in Australia's quarter-final loss at the 2019 Asian Cup, after swooping on a poor backpass from Milos Degenek. He has scored 14 goals this qualifying campaign and Australia need to stop him from adding to that tally. Meanwhile, Omar Abdulrahman has been named on the bench. Will we see him brought on a little later for some spark?
Let's get straight into teams because they have landed and, well, I did not pick this one. Huge day for Nathaniel Atkinson and Kye Rowles, who start at right-back and centre-back respectively and Bailey Wright retains his central defensive place from last week's friendly win over Jordan. Aziz Behich, who came off the bench in that match, is back in the XI at left-back. Worth noting that Rowles or Wright have earned a call-up after Trent Sainsbury pulled up with an injury during the week.
As promised by Graham Arnold, Aaron Mooy gets the nod despite having not played any competitive football for six month. Head of strength and conditioning, Andrew Clarke was apparently pleased with the way the midfielder pulled up after an hour-long stint in the friendly. Ajdin Hrustic, too, is in and will offer creativity in the absence of Tom Rogic, and Scotland-born Martin Boyle looks to be the striker! I mean… OK. But sure, why not? Let's roll with it and good things might happen. Adam Taggart is out through injury too.
Preamble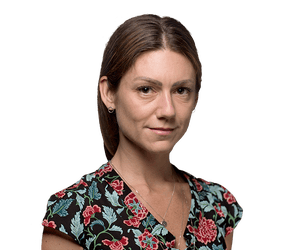 Emma Kemp
It's squeaky-bum time! The culmination of four years and proverbial blood, sweat and tears. The Socceroos are in Qatar – somewhere they want to be in November but somewhere they decidedly do not want to be now. Their World Cup hopes are hanging by a thread somewhere off Doha's corniche and only a win against the United Arab Emirates up the road at Al Rayyan Stadium will stop them dying a short death.
How did we get here again? Australia could have avoided this with a couple of more favorable results against opposition they should have beaten. But a third-place finish in the third round behind automatic qualifiers Saudi Arabia and Japan has signed the national team to this life-and-death playoff. Win here and they play Peru for a spot in the finals. But let's not get ahead of ourselves because while the UAE might be ranked 68th to Australia's 42nd recent past tells us the latter has trouble against the former. Nothing like the present to change the narrative!