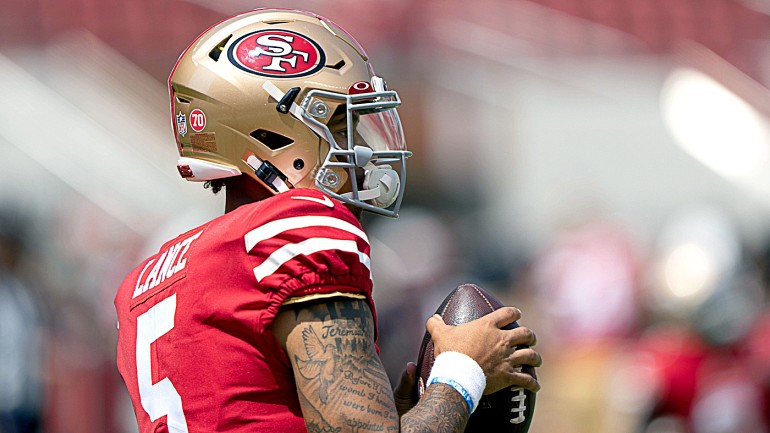 The chatter coming out of Santa Clara over the past few weeks has been different from the national narrative that second-year San Francisco 49ers quarterback Trey Lance may not be ready to start. Instead, players, coaches, and reporters watching the former 3 overall pick have mostly positive things to say about him.
The national media may be coming around.
The 49ers have a talented roster ready to make another run at the playoffs. There are question marks, of course. The interior of the offensive line is one. The departure of Laken Tomlinson and the retirement of Alex Mack complicated things. What about the Deebo Samuel situation? When will that get resolved? Of course, it helps that the fourth-year wideout reported for the team's mandatory minicamp this week, unlike DK Metcalf up in Seattle.
Let's assume those things work themselves out; the 49ers manage to make Samuel happy and figure out a manageable scenario with the offensive line. After that, what is the biggest X-factor heading into the 2022 season?
"It's the development of LancePeter Schrager said Wednesday on Good Morning Football. "Garoppolo's not there right now, and I think that's a good thing for Trey Lance. I think it's a good thing. Garoppolo is down there, training in Southern California, trying to get his shoulder right. But that means it's Trey Lance's team, at least to get his beak wet as being the leader.
"And from everything we've been hearing from these players, he's been awesome this offseason. He's been leading sessions, and he's been the guy."
"Everything I'm hearing out of SF is that Trey Lance is making major strides not only as a player but as a leader in the building with Jimmy G not present. The Lance/Brian Griese marriage may be the most fascinating QB/QB Coach two in the entire NFL this season."-@PSchrags @49ers pic.twitter.com/6NE31X5wTL

– Good Morning Football (@gmfb) June 8, 2022
This week, veteran tackle Trent Williams joined his 49ers teammates for the first time this offseason. Yet, he's already seen growth from the young quarterback. "I do see the growth," Williams told reporters on Tuesday. "… I think he carries himself extremely well, which is why he's here, why everybody's so high on him. We all know his attributes as a quarterback, but I think his mental, the way he carries himself, the way he holds his head, the way nothing ever rattles him, I think that's his key feature and I think that will take him a long way."
Lance started just two games during his rookie 2021 season, throwing just 71 pass attempts. That's not a lot of experience for a quarterback who entered the NFL with just one full season of collegiate starts and played one game during North Dakota State's 2020 season due to COVID.
"We haven't seen it," Schrager continued. "He played in two-and-a-half games last year and was not great, and yet everything I'm hearing out of the Bay Area is that there has been major strides heading into year number two. Jimmy G's not there, and he's kind of been off the radar. Trey Lance is [there]. I'm getting more and more of a feeling this is Trey Lance's team, and he's ready to go."
Lance and the 49ers hit the practice field again on Wednesday afternoon, concluding the team's three-day minicamp on Thursday.
"He's taking huge steps in the offseason," Williams added. "I can't wait to see how he looks when the live bullets get flying."
Nobody's perfect. Did you find a mistake in this article?
Report it.
Facebook Comments
More San Francisco 49ers News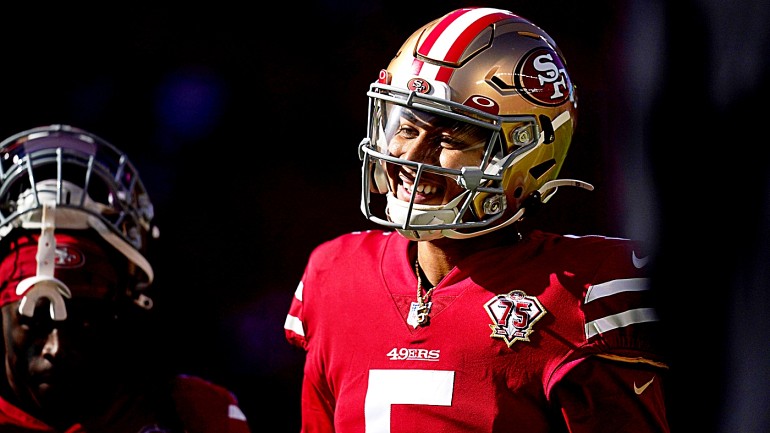 Brian Griese on 49ers' Trey Lance: 'He is an outstanding young man in so many ways'
San Francisco 49ers assistant coaches spoke with reporters on Wednesday. That included new quarterbacks coach Brian Griese, who is coming off a broadcast career with ESPN. The task ahead of him: Help mold second-year quarterback Trey Lance and prepare him to guide the 49ers to success. Griese expressed his excitement about returning to coaching. He was asked about last year's No 3 overall pick and what he has seen from the 22-year-old quarterback. "With respect to Trey, in particular, meeting him and getting to know him over the last couple of months, he is an outstanding young man in so many ways," Griese said. "I'm excited to continue to get to know him both on and off the field. I'm excited that he comes to work every day, and he's humble, and he wants to get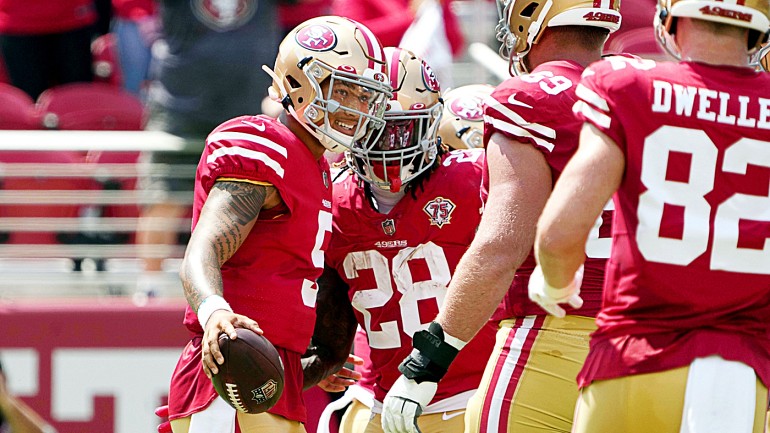 Reporter: Thursday believed to be 49ers QB Trey Lance's best practice of the offseason
This may not be as headline-worthy as it would have been had someone said it toward the middle or end of training camp. After all, the San Francisco 49ers just started organized team activities (OTAs) this week, wrapping up their third practice on Thursday. One reporter, Pro Football Focus' Doug Kyed, is hearing that the last session was second-year quarterback Trey Lance's best. "Lance has impressed people within the organization so far this spring, and the team feels he's already shown progress early in organized team activities," Kyed recently wrote for Pro Football Focus. "Thursday was believed to be his best practice"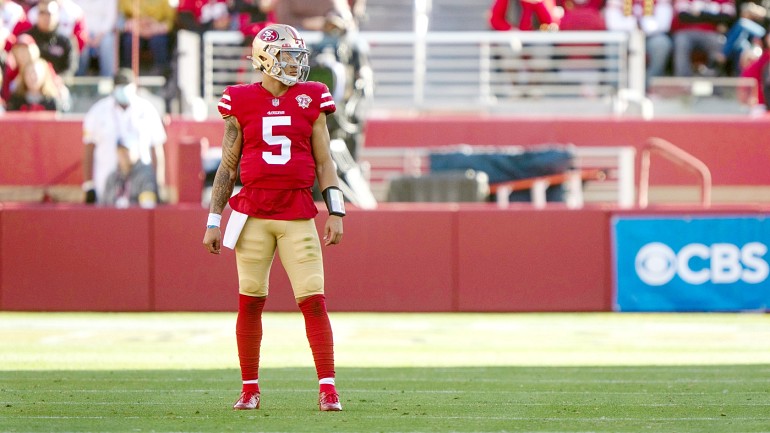 Peter King urges 'a little perspective' when evaluating 49ers' Trey Lance
Everyone is trying to evaluate second-year San Francisco 49ers quarterback Trey Lance, even with his small sample size of NFL playing time. Most expect Lance to succeed the team's starter of the past four-and-a-half seasons, Jimmy Garoppolo, taking over a roster talented enough to return to the postseason. The real question mark entering the 2022 season is Lance himself. Will he look like a young quarterback who makes mistakes as he adapts to the speed of the NFL? Or will he surprise his skeptics by showing he is ready to lead head coach Kyle Shanahan's offense despite playing just 178 snaps in 2021? And it's not just a lack of NFL experience that has many questioning the 22-year-old quarterback. Lance played just one full collegiate season for North Dakota State
Colin Cowherd reveals 'gut feeling' on 49ers' Trey Lance
San Francisco 49ers players have praised second-year quarterback Trey Lance, who most expect to be the team's starter in 2022. "The things that he brings to the table in his athleticism and his rocket-cannon of an arm, it's going to be really fun," tight end George Kittle recently said, for example. "… I'm looking forward to it because it feels like it's going to be a different offense with Trey at the helm," Kittle continued, "and it's something I'm looking forward to, and just the opportunities that come with that. It's going to be pretty exciting." Safety Jimmie Ward had similar praises while discussing the 22-year-old passer. All that praise
.