In an effort to introduce building information modeling (BIM), students in East Carolina University's Department of Construction Management are using virtual reality to see their developed models in the real world.
Chair of Construction Management George Wang said VR technology was first taught in an upper-level construction management course that covered BIM. Wang said while he doesn't teach this BIM course, he visited the VR lab and was involved in designing a ladder safety training project using VR technology.
Wang said that students can use the VR equipment to learn about real construction job sites, construction management, safety management and materials labs, as well as mechanical, electrical, plumbing, different labs and construction site activities.
"Using VR technology is part of the digital transformation in the construction industry. Now digital transformation is introduced into construction management education. This will enhance undergraduate teaching, and connect our students to the real construction world," Wang said.
The construction management program needs larger spaces for lab equipment practices, Wang said, so if they don't have the space or equipment needed, they can use VR technology to show the students the real lab or construction site.
Wang said Associate Professor of ECU Department of Construction Management Yilei Huang teaches BMI to teach students how to design commercial and residential buildings through VR technology. He said the technology is a tool to show students the concept of the design.
"Using the innovative technology makes our construction management students and our program special and different from others. That means our students are more technically and professionally ready to join the 21st Century construction industry," Wang said. "I'm not the computer guy or the person who teaches this virtual reality, but I can tell you introducing VR into the classroom is a revolutionary step in construction management education."
Huang said the software the BMI class uses is Iris VR, which allows students to get inside the buildings and see their own design, helping with students' understanding of their design and modeling.
Students create their 3D site model from the computer, Huang said, then export it from the computer modeling software to the VR software where they are able to see their model from the VR headset. For others to see what a student sees in their VR, Huang said students cast it to the computer connected to the projector.
"They (students) create their models on the computer and then I convert the model into the VR format, I have to create an account for each of the groups so that they can see their own model on their separate devices," Huang said.
Huang said the five Oculus Quest 2 VR headsets were purchased through the Fall 2021 Course Innovation Grant from the ECU Office for Faculty Excellence. This semester, Huang said students are using the trial account of the VR software because of the technology's high cost.
"This upcoming semester, the class will use the two-week trial because last semester they had a license for the class, since it was the first time they ever used the VR. They (students) realized the license was not needed since they don't need it for the whole semester," Huang said.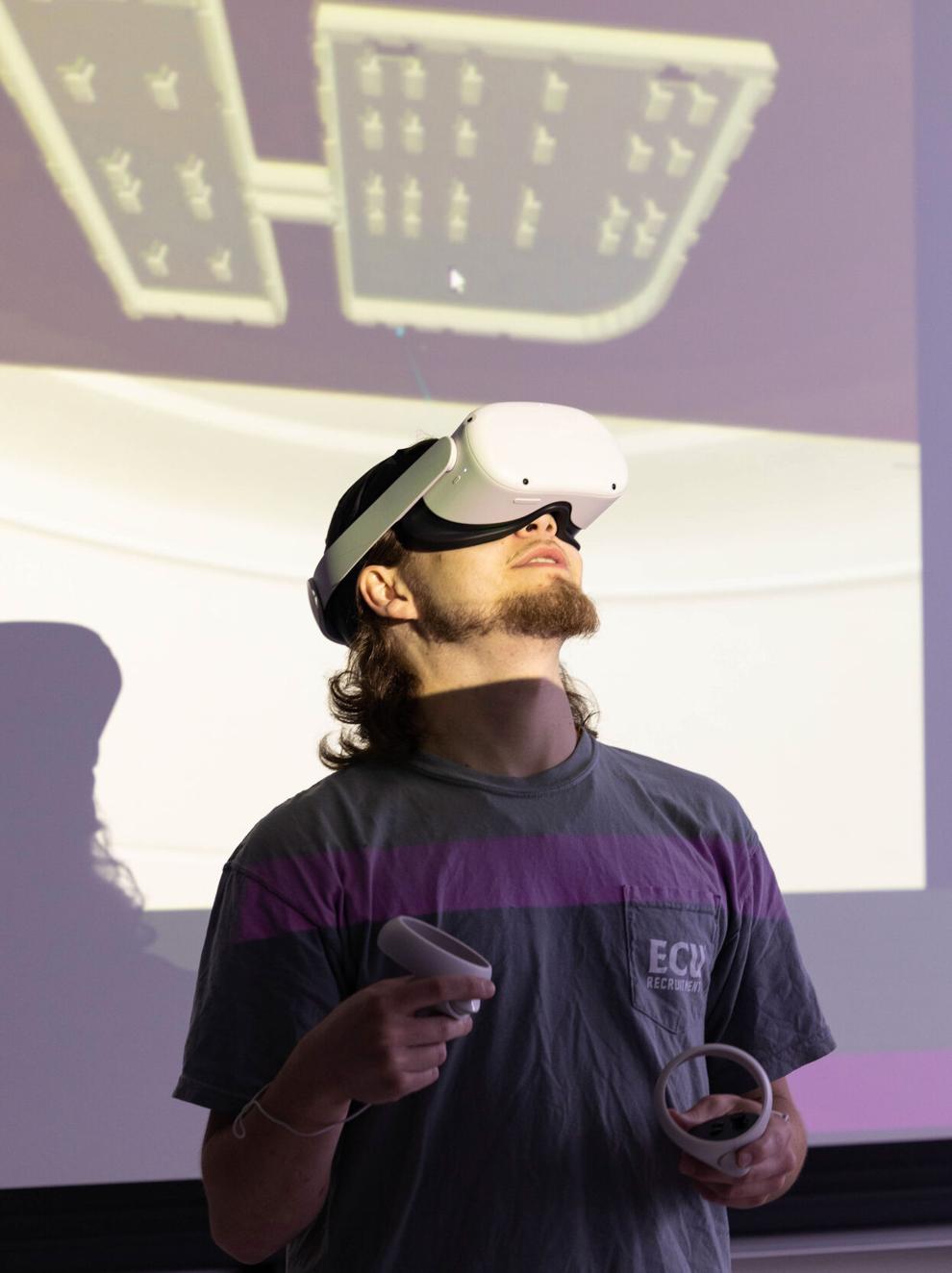 The VR program helps the class get into the 3D model of a building and see what's hard to see on computer screens, Huang said.
The BMI course uses the VR program towards the end of the semester to see students' finished 3D site models, Huang said, as students develop their models throughout the rest of the semester.
"(The VR) gives students a better understanding of how construction modeling works and is important for the students to identify the design and modeling problems that are not easy to see on computer screens," Huang said. "(It is a) way to get our students to see the real world. VR is being used by more industry companies."
Jordan Lipton, product sales specialist of the XR team at Autodesk – The Wild and Prospect by IrisVR, wrote in a email statement that during the early days of VR, architecture, engineering and construction (AEC) firms would need to hire a software development team to build a VR experience for each specific model used on different projects, which included a lot of time and finances.
Prospect by IrisVR was started with the goal of making it easy for people to bring their models into VR for a design review through 3D modeling software, Lipton wrote, such as Revit and Navisworks.
Lipton wrote that other features such as issue tracking and BIM data inspection have helped establish BIM workflows. It's easy and comfortable to use, Lipton said, and being scalable has made Prospect by IrisVR a valuable decision-making tool for AEC firms in over 100 countries.
"It's about more than just looking at your models in VR; the software has built-in design review tools like measurements, markups, viewpoints and visibility settings. On top of that it also includes VR meeting functionally for anyone in the world to collaborate live in their model together," Lipton wrote.
.